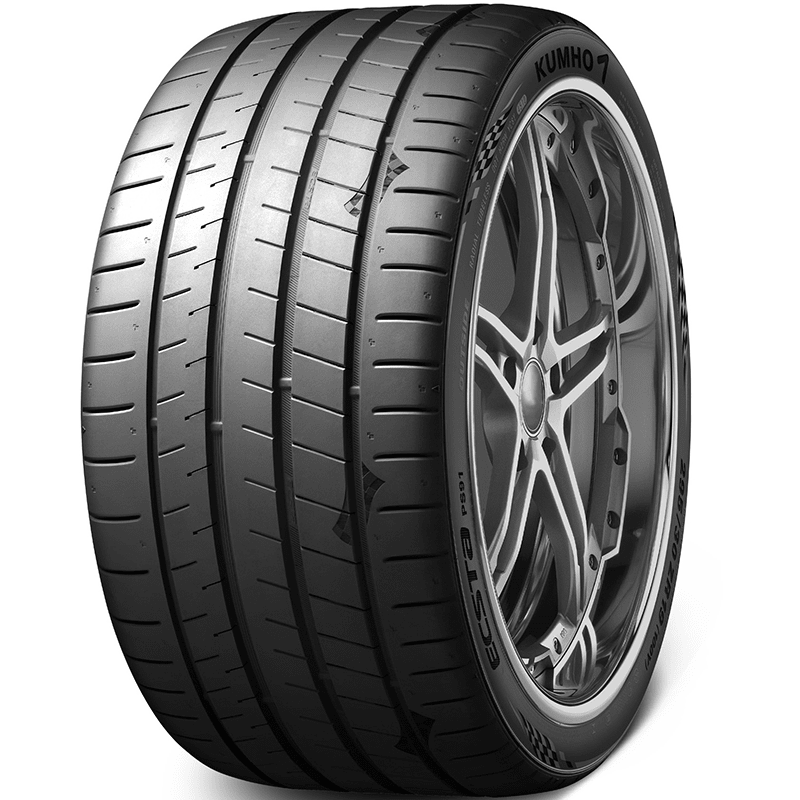 Passenger
ECSTA PS91
A new, super high performance tyre designed specifically for supercars and high end performance vehicles, the Ecsta PS91 offers real premium performance on the road and on the circuit. Utilising Kumho's extensive motorsport experience, this innovative tyre design facilitates a marked improvement in high-speed driving, safety and cornering.
The Ecsta PS91 delivers enhanced grip, braking ability, high speed durability and a uniform ride quality. Ideal for cars such as the Porsche 911, Audi R8, Mercedes AMG, BMW, Lexus, Holden Special Vehicles and Ford Performance Vehicles.
For more information on the power and speed of the Ecsta PS91 download or brochure or click here to visit our microsite.
Features:
Speed rating of over 300km/hr
Different front & rear tread patterns
A tread compound developed specifically for ultra high performance
Excellent levels of wet and dry traction for superior handling and braking
| TYRE SIZE | SECTION WIDTH | ASPECT RATIO | RIM DIAMETER | LOAD INDEX | SPEED INDEX |
| --- | --- | --- | --- | --- | --- |
| 245/35R19 | 245 | 35 | 19 | 93 | Y |
| 235/35R19 | 235 | 35 | 19 | 91 | Y |
| 225/35R19 | 225 | 35 | 19 | 88 | Y |
| 245/40R19 | 245 | 40 | 19 | 98 | Y |
| 255/40R19 | 255 | 40 | 19 | 100 | Y |
| 255/35R19 | 255 | 35 | 19 | 96 | Y |
| 255/30R19 | 255 | 30 | 19 | 91 | Y |
| 275/35R19 | 275 | 35 | 19 | 100 | Y |
| 285/30R19 | 285 | 30 | 19 | 98 | Y |
| 295/30R19 | 295 | 30 | 19 | 100 | Y |
| 265/35R19 | 265 | 35 | 19 | 98 | Y |
| 255/45R19 | 255 | 45 | 19 | 104 | Y |
| 225/40R19 | 225 | 40 | 19 | 93 | Y |
| 285/40R19 | 285 | 40 | 19 | 107 | Y |
| 305/30R19 | 305 | 30 | 19 | 102 | Y |
| 275/40R20 | 275 | 40 | 20 | 106 | Y |
| 245/35R20 | 245 | 35 | 20 | 95 | Y |
| 245/45R20 | 245 | 45 | 20 | 103 | Y |
| 265/35R20 | 265 | 35 | 20 | 99 | Y |
| 295/30R20 | 295 | 30 | 20 | 101 | Y |
| 235/35R20 | 235 | 35 | 20 | 92 | Y |